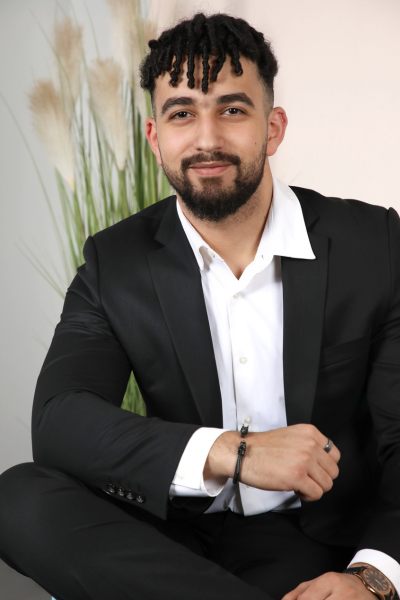 Karim Humaid
Associate Consultant
Representing the firm since 2022
Services
Recruitment, executive search
Functions
Mid-Senior level sales and marketing roles
Industries
Healthcare, medical devices, pharmaceuticals and FMCG, industrial and public sector
About me
Karim is an Associate Consultant on the Sales and Marketing team at Cooper Fitch. He specialises in the recruitment of sales and marketing professionals with expertise across healthcare, medical devices, pharmaceuticals and FMCG, industrial, and the public sector. Karim comes from a recruitment background previously working for an international firm, supporting clients and candidates within the Healthcare and FMCG market. At Cooper Fitch, Karim collaborates with his clients on search strategies, candidate selection, market research, and executive search with unique talent pools based globally. 
Karim is originally from Jordan but has been raised in the UAE. His expertise and extensive knowledge of the region allows him to assist both clients and candidates alike with search assignments. Whilst living in Dubai he attended the University of Sharjah where he obtained a Bachelor's degree in Management and Minor in Marketing.  Not only does he bring a high level of ability and skill to his role, but he is also a bilingual speaker of both English and Arabic.
Qualifications
- Bachelor's degree in Management and Minor in Marketing
Contact specialist
Key Projects
5+ roles – Medical device organisation, GCC
Carried out a global search and headhunted professionals for five commercial roles for a medical device organisation in the Gulf. Services included: drafting job specifications, sourcing, headhunting and project management.
Marketing Director- F&B Company- GCC
Worked on a recruitment and search strategy for a Marketing Director for a food and beverage company in the Gulf. Sourced and headhunted the successful candidate.
General Managers – Automotive Sector – KSA
Supported one of the largest automotive companies in the KSA in hiring two Saudi National candidates for the General Manager – Business Development and General Manager – Business Excellence mandates.
Areas of Expertise
Sales and marketing recruitment
Executive search
Candidate assessment and analysis
Market research
Healthcare recruitment
FMCG recruitment