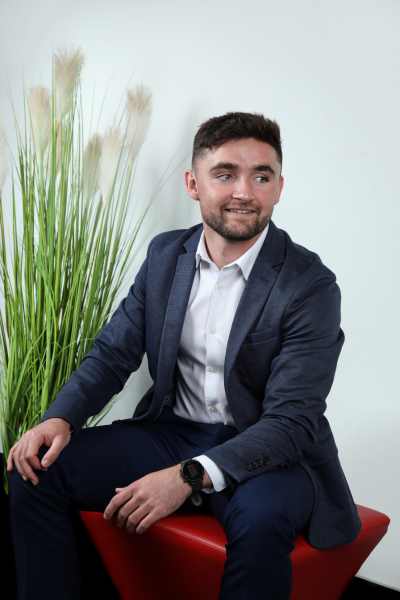 Bill Joyce
Recruitment Consultant
Representing the firm since 2022
Services
Recruitment, executive search
Functions
Junior to mid-level strategy and management consulting roles
About me
Bill is a Recruitment Consultant on the Strategy and Management Consulting team at  Cooper Fitch. He joined the firm in 2022 where he specialises in junior-mid level recruitment for top-tier Strategy Houses, Big 4, international and local Consulting Firms, and Commerce & Industry clients. He works closely with a unique talent pool based locally and internationally. Additionally, he has worked on projects around gender diversification, Saudisation and Emiratisation.
Prior to joining Cooper Fitch Bill worked in client services and business development within the Electrical and Technology sector which helped him form a strong foundation of his experience within the professional services and his appointment at Cooper Fitch. Bill holds a Masters Degree in Business Economics from University College Cork in Ireland.
Qualifications
- Bachelor of Arts
- Masters in Business Economics
Contact specialist
Key Projects
6+ hires – Public Sector, UAE 
Successfully recruited and helped build out a Public Sector Strategy Practice for a Tier 2 Management Consulting firm in the UAE. Appointments made within the team included; A Manager, Associates and Senior Business Analysts.
Consultant & Senior Consultant hires – Big 4, KSA
Supported the expansion of a Big 4's consulting team in their respective financial services, TMT and public sector practices. Services included: search strategy, candidate analysis and headhunting.
Head of Strategy & Business Development – Industry Client, UAE 
As part of a company expansion, Bill successfully recruited the Head of Strategy & Business Development for the strategy department. Candidates came from Top-tier strategy houses with a focus on growth strategy and market entry strategy.
Areas of Expertise
Consulting & Transformation
Strategy & Operations
PMO & Change Management
Process Improvement & Business reengineering
M&A Strategy
Performance management & Organisational Effectiveness
Post Merger Integration/Separation