United Arab Emirates Salary Guide 2023
Introduction

Welcome to the 2023 edition of the Cooper Fitch Salary Guide for the United Arab Emirates.

If 2021 was a period of post-pandemic recovery for the UAE, 2022 has been a year of consolidation and growth across multiple sectors. Not only has the Emirates bounced back from the effects of Covid-19 during the past 12 months but it has now surpassed the levels of recruitment activity last witnessed in 2019. This is supported by the IMF's predictions that the UAE's economy will be the fastest growing economy in the Gulf, in 2023.

Thanks to strong leadership in the wake of a global crisis, the UAE's aviation and tourism sectors have outperformed market expectations throughout 2022. According to the UAE Tourism Council, during Q1 of 2022, the tourism sector exceeded the pre-pandemic figures for the same period in 2019. This is evidenced by industry leaders such as Etihad Airways, Emirates, and flydubai, which have undertaken intensive recruitment campaigns spanning every level of their organisations, from cabin crew to leadership roles.

The popularity of UAE as a destination of choice has underpinned the tourism sector's success; with Dubai frequently placed highly as one of the most visited cities in the world. During 2022, Dubai welcomed over 10 million international visitors between January and September, with a further increase in travel to the city during quarter four for the Qatar World Cup.

On a broader level, the UAE's jobs market has enjoyed its strongest year in a decade, with higher-thananticipated demand across the public and private sectors. This activity has been fueled in no small part by the healthy position in which the nation's government finds itself, as well as its success in incentivising local and international funding for large projects.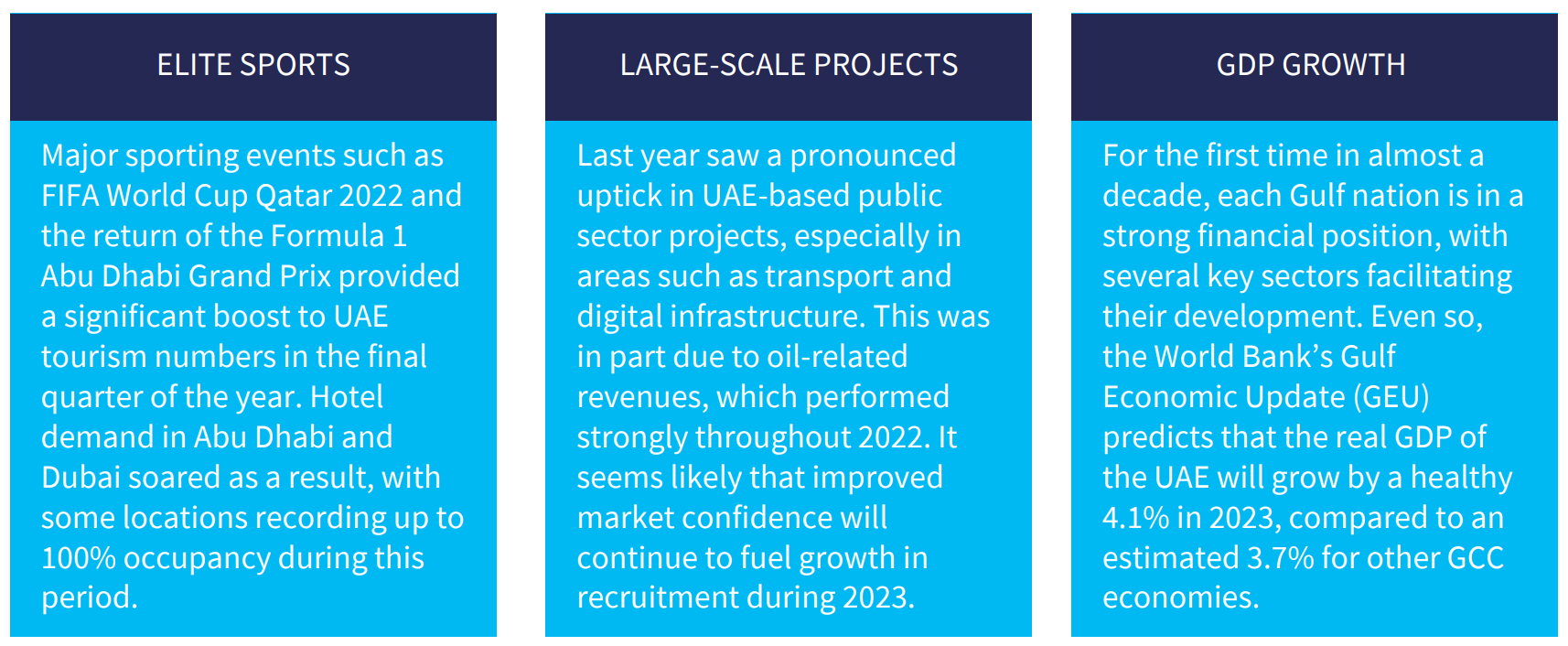 Introduction

The Emirates' economy is growing rapidly thanks to the impressive recovery rates of the key segments that underpin it. Our team sees 2023 as a year in which this momentum will continue to build. The consulting sector, for example, has established itself as a high economic performer for the UAE, and Dubai remains the GCC hub for this market. As a major employer within this space, the emirate looks likely to further cement its status as a leader for tax, legal, strategy and technology consulting during 2023.

The third quarter of 2022 witnessed a 3% boost in hiring activity within the UAE. This trend looks set to continue into the next year, with the majority of companies in the Emirates planning to hire new employees during 2023.

In terms of salary predictions for the coming year, we expect notable levels of movement within the UAE. Based on the responses used to compile this guide, our team predicts that wages in the Emirates will increase by just under 2% in 2023.
Headcount in the UAE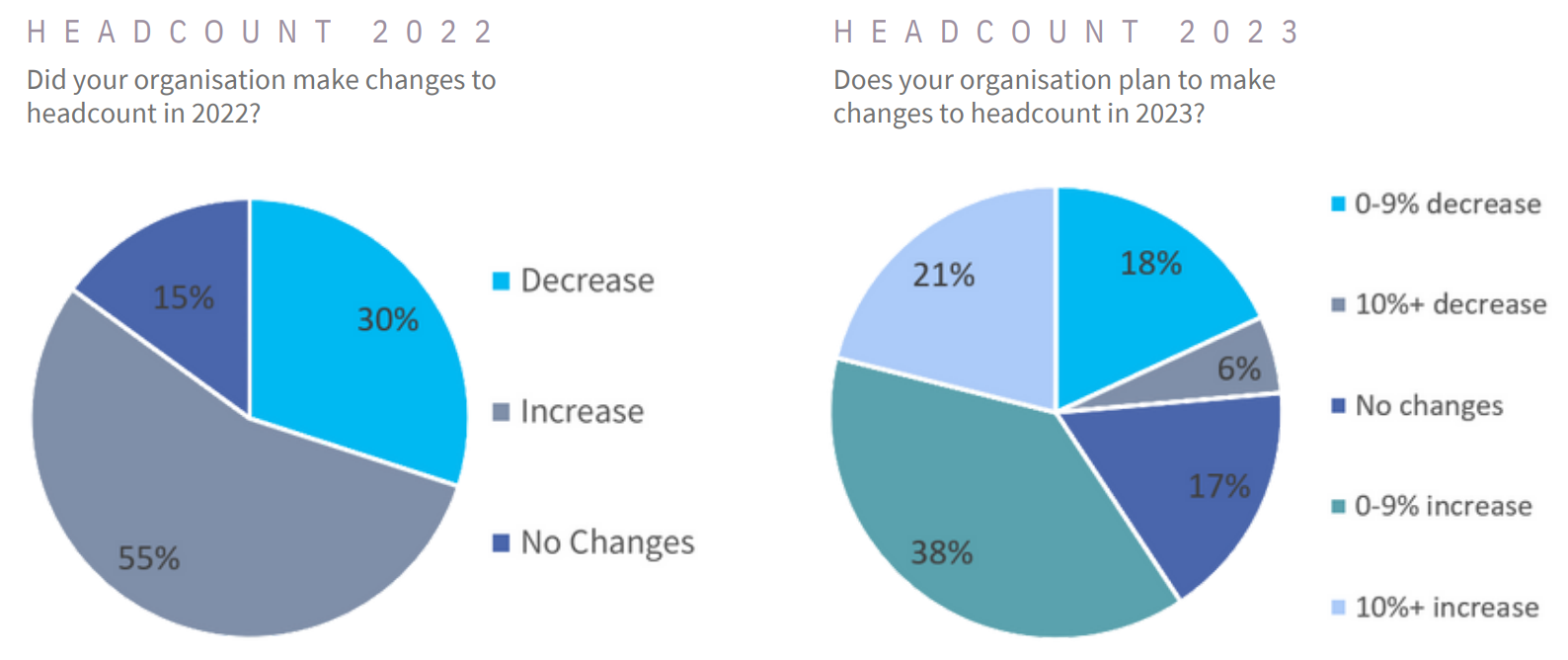 Almost one-third (30%) of the UAE-based organisations surveyed made headcount reductions in 2022, whereas 15% registered no change. More than half of respondents (55%) grew their workforce during this period, representing a 3% year-on-year rise. Only 24% expect to reduce their headcount in 2023, while 59% plan to increase their numbers. It's shaping up to be a busy 12 months for recruiters and applicants in the UAE.
Bonus Outlook

This year, Cooper Fitch asked whether respondents expected to pay annual bonuses based on their organisations' financial performance in 2022. Almost three-quarters of those surveyed reported their intention to issue annual bonuses, compared to just 26% that had no such plans. This figure remains the same when compared to our 2021 data.

In terms of the anticipated payouts, the largest proportion of respondents that intend to issue bonuses (36%) expected the amount to be one month's gross salary. One-fifth (20%) of those surveyed plan to pay two months' gross salary, 10% said three months, 3% said four months, and 1% said five months. Employees working for 4% of the companies surveyed this year can look forward to annual bonuses amounting to a generous six months' gross salary. The sectors represented in this category include banking, financial services, investment management and consulting.

Of the 26% of companies that do not intend to pay bonuses, the highest proportion hailed from the logistics and supply chain sector. This is surprising given that 2022 was a year of recovery with a return to pre-pandemic levels. Encouragingly, despite an absence of bonuses in certain quarters, the sector does intend to increase salaries in 2023, according to our survey's data. What's more, the UAE's logistics market is expected to grow by $11.87 billion by 2026, according to industry research released by Technavio in November 2022. Companies that deliver bonuses in the short-term will be more likely to retain talent as competition in the market heats up.

To ensure the highest possible accuracy of this year's bonus-related information, Cooper Fitch surveyed seniorlevel representatives from businesses across multiple sectors. Moreover, the largest proportion of respondents (40%) worked in the field of HR, meaning they are ideally placed to comment on expected payouts. Other segments represented included directors (21%), managers (19%) and C-suite professionals (17%).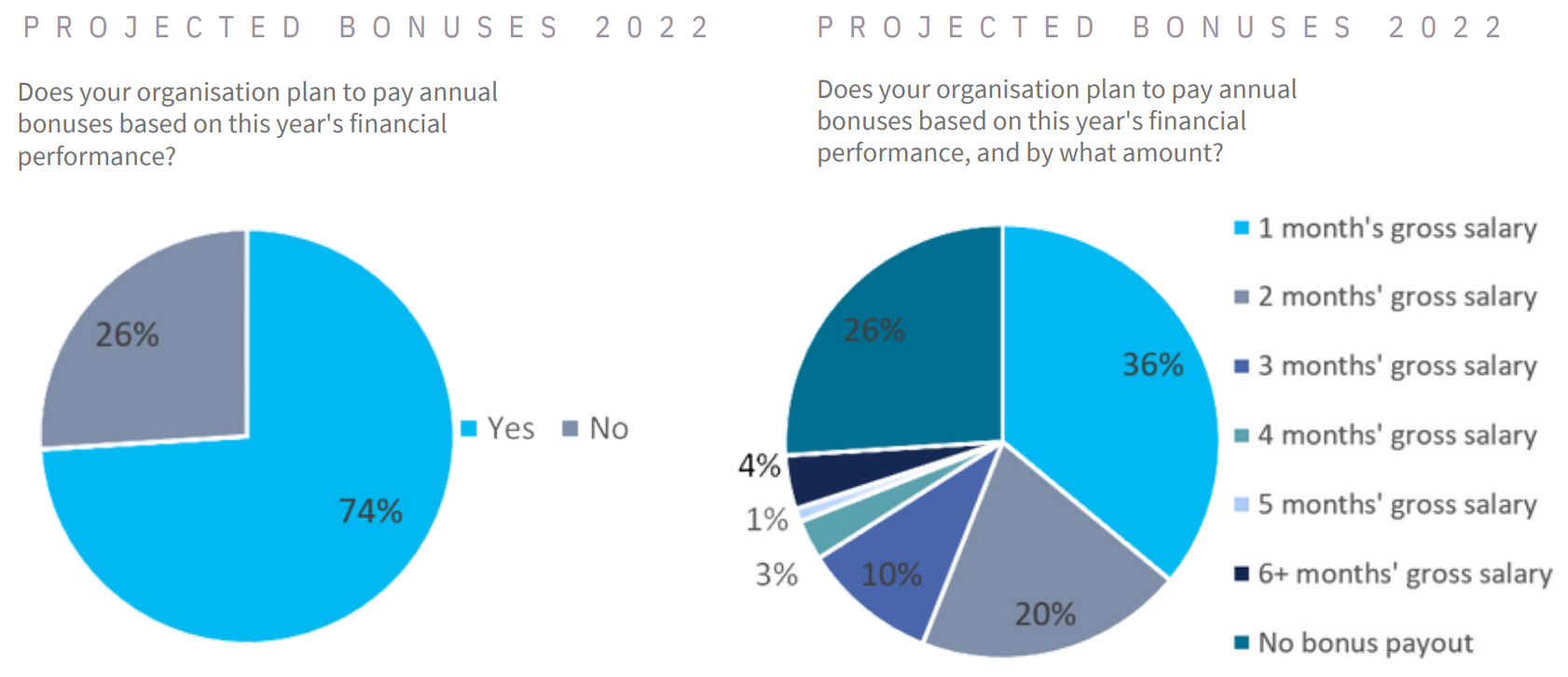 Research Methodology

This year, Cooper Fitch surveyed business leaders responsible for key decision-making at more than 300 organisations across the Gulf. Our survey posed a selection of six confidential questions, which were focused on recruitment activity, organisational headcounts and salary trends across 2022 and into 2023.

The data included in our salary guide is based on the answers we received from our respondents and professional network, and are representative of these responses exclusively.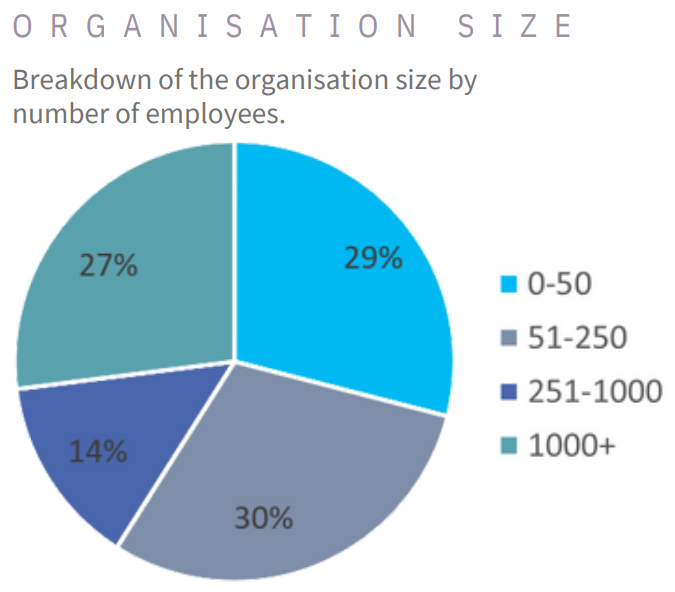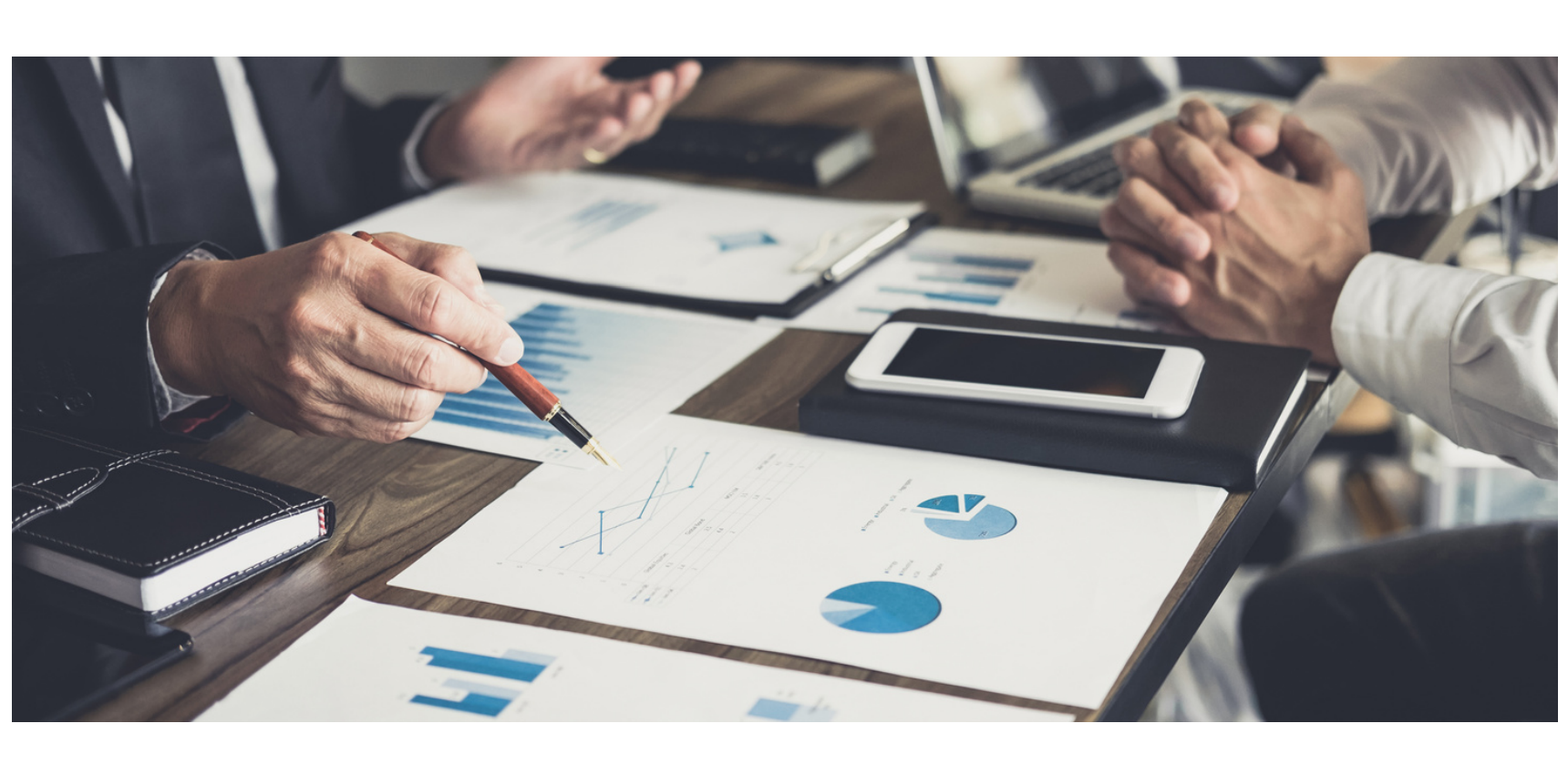 About Cooper Fitch
Established in 1997, Cooper Fitch provides recruitment, executive search, HR advisory and RPO services across the GCC. Our team supports clients in the Gulf and Europe with all talent-related matters. We are also a proud member of the Talent Club group of companies, with 37 offices across three continents.
Cooper Fitch also offers comprehensive compensation and benefits analysis, which is designed to enhance your organisation's competitive edge. Please contact me directly if you would like to learn more.
Services
Recruitment
Executive Search
HR Advisory
Recruitment Process Outsourcing

Trefor Murphy
Founder, CEO
tmurphy@cooperfitch.ae
+971 55 555 7283
UAE Salary Guide 2023
The guides summarise our expectations for salaries and recruitment trends for 2023.
Download Guide