Kingdom of Saudi Arabia Salary Guide 2023
Introduction
Welcome to the 2023 edition of the Cooper Fitch Salary Guide for the Kingdom of Saudi Arabia.
Following a strong post-pandemic recovery, the Kingdom of Saudi Arabia (KSA) is once again making rapid progress towards the goals set out in Vision 2030. In 2022, the country saw a significant uptick in recruitment demand with high levels of activity across all sectors particularly real estate and hospitality.
Although the price of oil contracted in the latter part of the year, the per-barrel cost of brent crude – which peaked in June – had a positive impact on Saudi Arabia's jobs market during 2022. Moreover, sustained government investment has enabled a slew of mega and giga-projects to proceed apace, boosting recruitment within the country's project management and development segments.
One of the most ambitious Saudi-based projects to garner headlines in 2022 is The Line – NEOM. Billed by its creators as 'the future of urban living', this 200m-wide linear city will stretch across 170km, topping out at 500m above sea level. While its developers plan to use advanced modular assembly methods to expedite completion of the mirrored megastructure, delivery will nevertheless require unprecedented levels of expertise. This is just one of many projects that are catalysing recruitment in the Kingdom.
The ever-growing maturation of Saudi Arabia's non-oil sectors, coupled with rising demand for the human capital necessary to complete developments of unprecedented scope on time and within budget, resulted in a major boost for recruitment in 2022. Spurred on by the ambitious goals set out in Vision 2030, this trend looks set to continue into 2023 – so much so that we expect KSA to top the global recruitment league tables next year.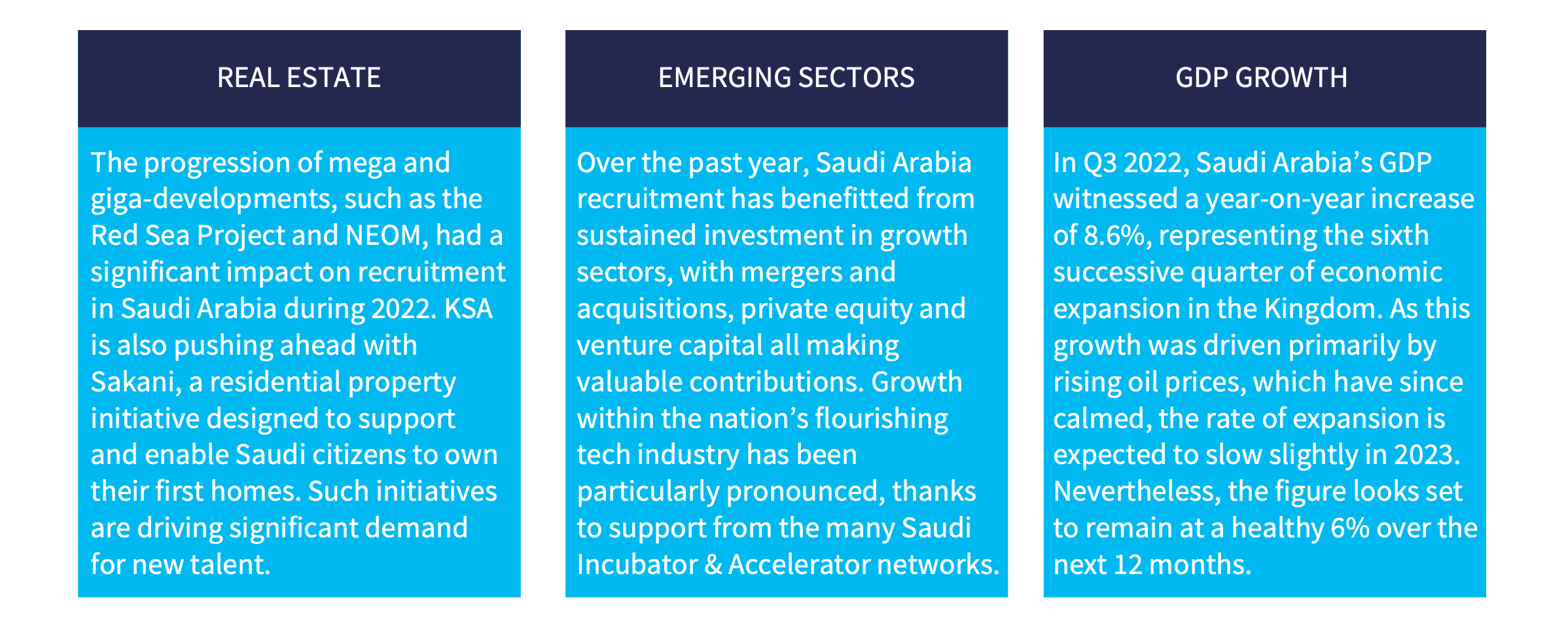 Introduction
Saudi Arabia's economy is expanding rapidly, and Cooper Fitch expects development and diversification to continue swiftly in 2023. Alongside the progress of mega and giga-projects, with work on built assets and infrastructure now commencing, there is a parallel drive to grow the Kingdom's technology industries. The electric vehicle (EV) sector represents a prime example, with confidence in the market continuing to grow globally. KSA is set to become home to two of the world's largest EV manufacturing facilities within the next two years.
From a macro perspective, Saudi Arabia's Public Investment Fund (PIF) looks likely to accelerate its diversification-related investments in 2023, thanks in no small part to a record budget surplus of $39.9 billion posted in the first nine months of 2022. With the coffers full, Saudi leaders will have a greater capacity to attract the talent required to realise their vision.
Based on the recruitment trends we have seen in the market, plus the responses used to compile this guide, Cooper Fitch therefore expects salaries in KSA to increase by just over 3% in 2023.
Headcount in KSA

Just over one-fifth (21%) of the KSA-based organisations surveyed made headcount reductions in 2022, and a
similar proportion (22%) registered no change. A sizeable 57% increased their numbers during this period. Looking ahead, only a quarter (25%) expect to reduce their headcount in 2023, while 57% are planning for growth. This is why we expect the next 12 months to be a record-breaking period for KSA's recruitment market.
Bonus Outlook
This year, Cooper Fitch asked whether respondents expected to pay annual bonuses based on their organisations' financial performance in 2022. A staggering 81% of those surveyed reported their intention to deliver annual bonuses. For context, only 68% of respondents to our 2022 survey planned to pay bonuses based on their financial performance in 2021.
Of those intending to issue payouts, the most significant proportion (26%) expect the amount to come to one month's gross salary. Approximately 17% of respondents plan to pay two months' gross salary, 19% said three months, 8% said four months, and 2% said five months. One in 10 employees working for the firms surveyed can expect annual bonuses amounting to six months' gross salary. Industries represented in this category include aviation and aerospace, banking, financial services, investment management and government relations.
Of the 19% of companies that do not intend to pay bonuses based on their 2022 financial results, the highest proportion hailed from construction, which is surprising given KSA is outperforming the wider Middle East and North Africa (MENA) region in this sector. In fact, as of October 2022, Saudi Arabia commanded a 35% market share with $31 billion of contract awards, according to research published by JLL in December. While wider macroeconomic factors are posing challenges for construction outfits around the world, companies that deliver bonuses now will be better placed to retain talent amid increasing recruitment-related competition.
To ensure the highest possible accuracy of this year's bonus-related information, Cooper Fitch surveyed senior- level representatives from businesses across multiple sectors. The largest proportion of respondents (28%) were managers, followed by professionals working in the field of HR (22%). Two-fifths of respondents (40%) were directors and C-level professionals, with an equal split between the two segments.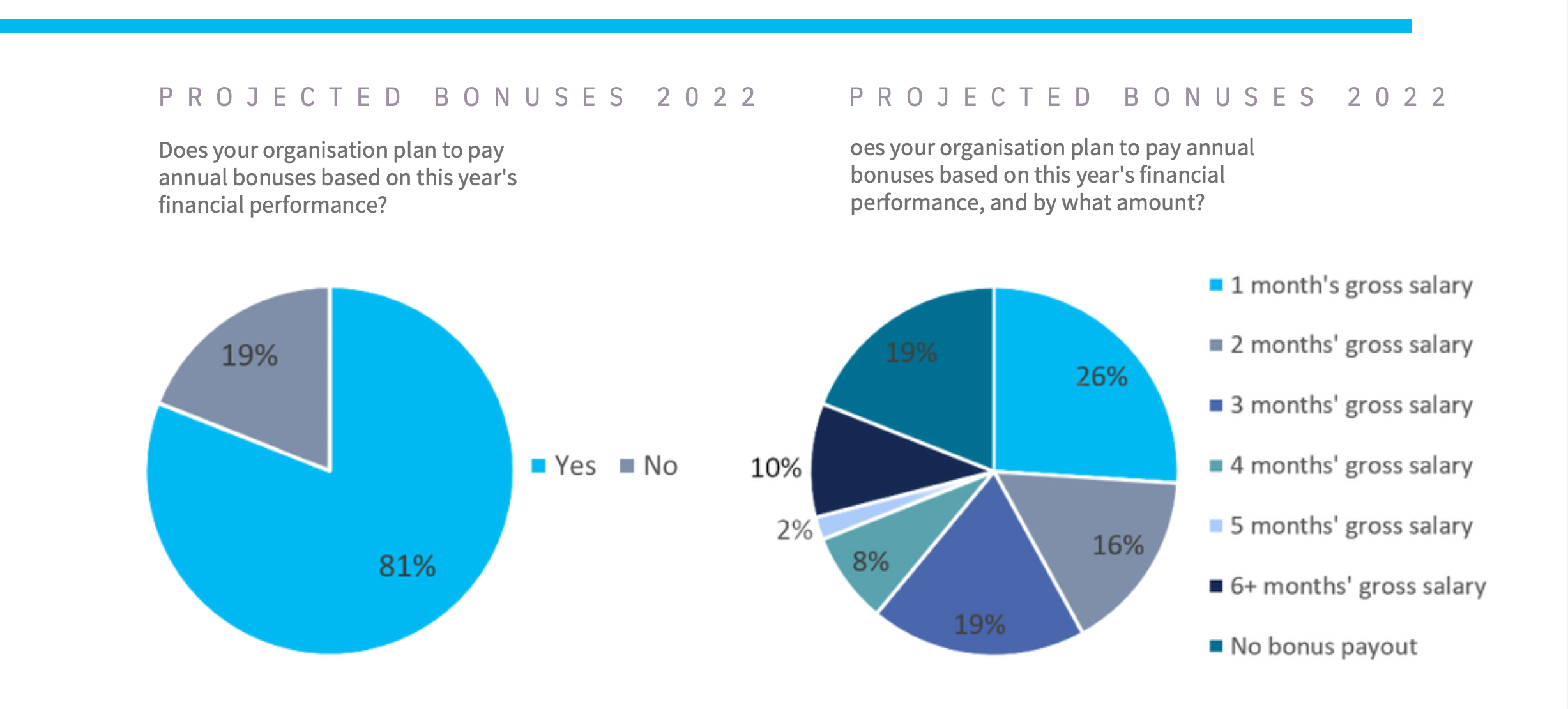 Research Methodology
This year, Cooper Fitch surveyed business leaders responsible for key decision-making at more than 300 organisations across the Gulf. Our survey posed a selection of six confidential questions, which were focused on recruitment activity, organisational headcounts and salary trends across 2022 and into 2023.
The data included in our salary guide is based on the answers we received from our respondents and professional network, and are representative of these responses exclusively.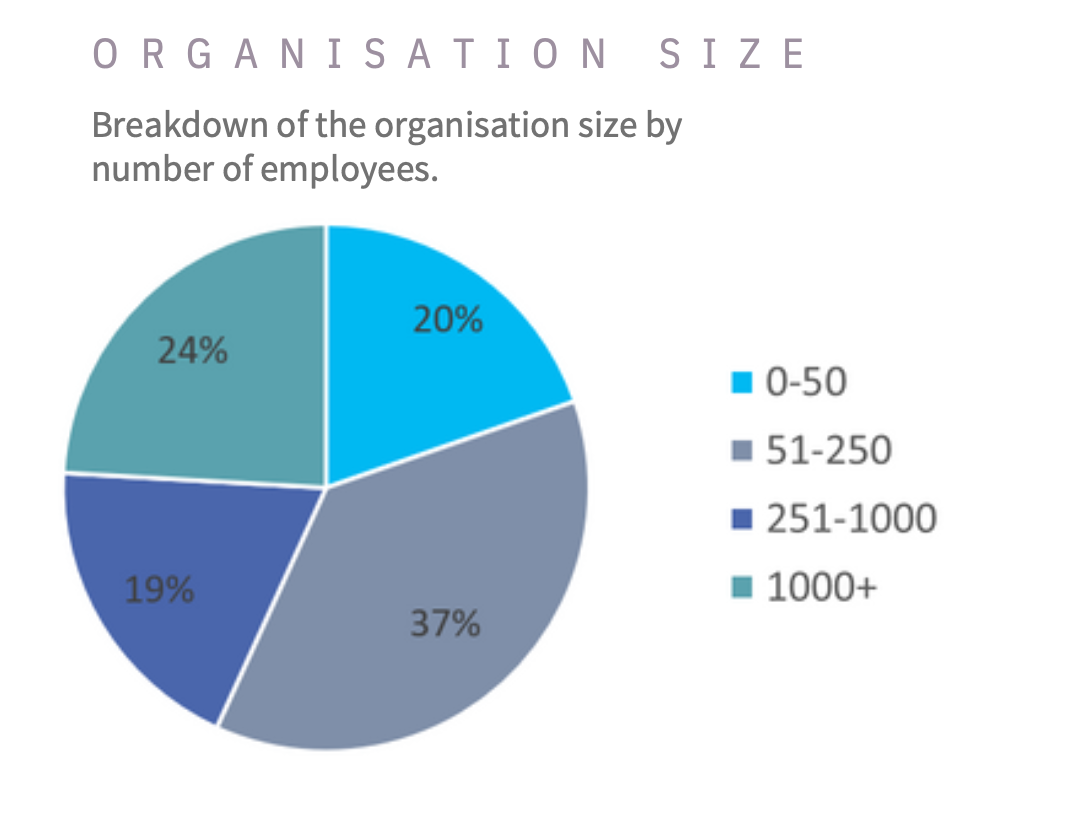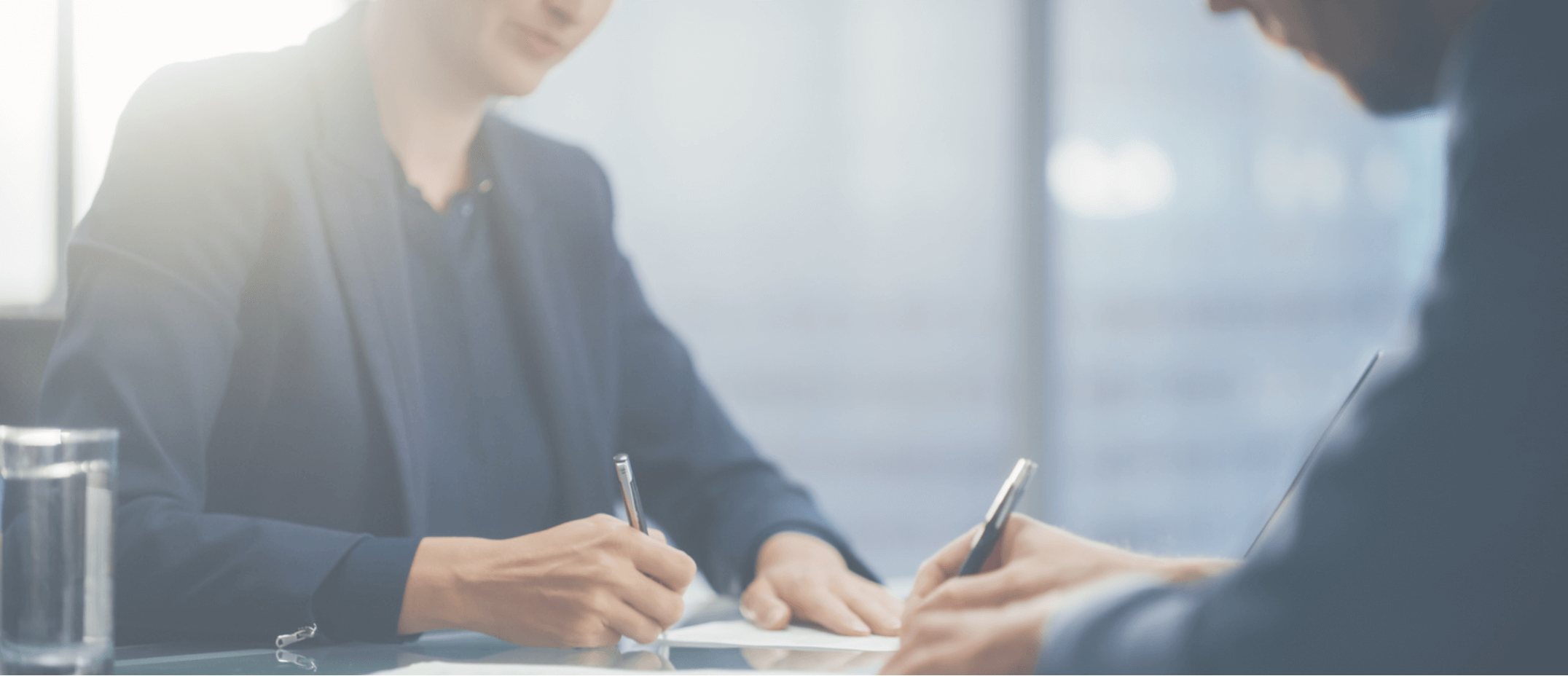 About Cooper Fitch
Established in 1997, Cooper Fitch provides recruitment, executive search, HR advisory and RPO services across the GCC. Our team supports clients in the Gulf and Europe with all talent-related matters. We are also a proud member of the Talent Club group of companies, with 37 offices across three continents.
Cooper Fitch also offers comprehensive compensation and benefits analysis, which is designed to enhance your organisation's competitive edge. Please contact me directly if you would like to learn more.
Services
Recruitment
Executive Search
HR Advisory
Recruitment Process Outsourcing

Trefor Murphy
Founder, CEO
tmurphy@cooperfitch.ae
+971 55 555 7283
KSA Salary Guide 2023
The guides summarise our expectations for salaries and recruitment trends for 2023.
Download Guide